Sara Felder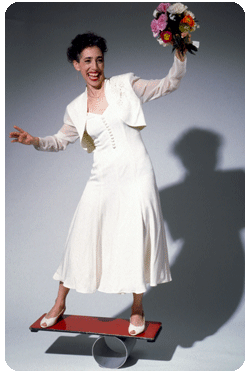 Sara Felder is a solo theater artist, playwright and juggler who, over the last three decades, has created a body of work that juggles personal narrative, circus shtik and social justice.  While the themes of her plays and performances are serious, her form is comic, engaging, vaudevillian.  She strives to integrate personal experiences with the urgency of this moment in history.  Out of that mix she creates funny and provocative theater.
Sara began performing in 1984 with San Franciso's Pickle Family Circus.  Since then, she has also toured with Jugglers for Peace in Cuba, the Women's Circus in Nicaragua, Joel Grey's "Borscht Capades," the Klezmatics' "Totem und Taboo" tour and at Festivals of Jewish/Yiddish Culture in Berlin, London, Amsterdam, New York, Los Angeles and Toronto. She has also opened for Joan Rivers, and for many years taught juggling and performance at San Quentin State Penitentiary, Vacaville Medical Facility and Milestones Half-way House.  
Sara's body of work, including radical solo circus theater and witty multi-actor plays, explores political and social frictions: a lone cellist playing defiantly on the war-ravaged streets of Sarajevo; the scientists who – in a gargantuan effort to save the world from Hitler – ended up making the bombs that annihilated the people of Hiroshima and Nagasaki; a gender-bending cross-dressing 19th-century vaudevillian; two urban neighbors who confront racism; victims of radioactive fallout from U.S. nuclear tests in the Marshall Islands; and women named Joan.
Sara's full-length solo plays include "A Queer Divine Dissatisfaction" which explores the complexity of grief, "Melancholy, A Comedy" which centers on American icon Abraham Lincoln in order to investigate mental illness and depression, "Out of Sight" which uses the relationship between a blind mother and her adult daughter to examine invisibility, family loyalties and the Israel/Palestine conflict, and "Shtik" which imagines the meeting of a turn-of-the-century vaudevillian and a contemporary performance artist. The highly-acclaimed "June Bride" tells the story of a traditional Jewish lesbian wedding.  In its hundreds of performances over a 15 year period, "June Bride" was part of the grass-roots effort to keep same-sex marriage on the national agenda and gave audiences a way to talk about this controversial issue.
Felder has been an artist-in-residence at the Headlands Center for the Arts, Intersection for the Arts, 1812 Productions and the California Arts Council, the latter for her work teaching juggling and performance in California prisons. Felder is a recipient of the California Arts Council artist fellowship in playwriting and has also been awarded the Arts in America's "Animating Democracy Initiative" which used art to inspire civic dialogue about same-sex marriage in Anchorage, AK.  She has earned numerous commissions and fellowships from the San Francisco Art Commission, the National Performance Network, the Pennsylvania Council for the Arts, the Independence Foundation, the Philadelphia Theatre Initiative and the Leeway Transformation Award, the latter for her commitment to art and social change.
Sara presently teaches English and Theatre at San Francisco State University and Berkeley City College and is working on a new play, "Ambivalent/Ambiguous: a tired manifesto of an English teacher."  Sara lives in Oakland, CA with her partner Dev and their son Jesse.
The Timbrel Artist-in-Residence Program seeks artists with talent and passion to share at the 2018 Havurah Institute. Artists from all disciplines are encouraged to apply. Past artists have represented the disciplines of music (vocal and instrumental), theater and storytelling, puppetry, poetry, visual arts, and dance.