July 19- August 2
*Note that all courses have 3-4 sessions.  Click on the course title for a description (below).
Morning
---
10am-11:30am: Monday/Wednesday/Monday/Wednesday (July 20,22,27,29) 
10am-11am: Monday/Wednesday/Monday/Wednesday (July 20,22,27,29)
10am-11:30am: Tuesday/Thursday/Tuesday/Friday (July 21, 23, 28, 31) 
10am-11am: Tuesday/Thursday/Tuesday/Friday (July 21, 23, 28, 31) 
Afternoon/Evening
---
8pm-9:30pm: Monday/Wednesday/Monday (July 20, 22, 27) 
6:30pm: Thursday (July 30)
Evening
---
8pm-9:30pm Monday/Wednesday/Monday (July 20, 22, 27) 
8:15pm-9:15pm Wednesday July 22
8pm-9pm Sunday July 26
8pm- 9pm Monday July 27
8pm-9:30pm: Tuesday/Thursday/Tuesday/Thursday (July 21, 23, 28, 30)
8pm-9pm: Tuesday/Thursday/Tuesday/Thursday (July 21, 23, 28, 30)
Course Descriptions
---
Eating the Bible, Writing the Table, Marcela Sulak, Timbrel Artist in Residence
This course offers writing workshops based on four Biblical texts in which food plays a major narrative role. We will write using prompts based on agricultural practices and food preparation. As additional dimensions to the creative process, we will also prepare food and discuss home gardening design.
Arts, Music, Performance

Contemporary Issues

History and Culture

Religious Life and Spirituality

Text Study for Everyone
Marcela Sulak is the author of the memoir Mouth Full of Seeds (2020) and the poetry collections City of Sky Papers (forthcoming 2021), Decency (2015), Immigrant (2010)—all from Black Lawrence Press. She's co-edited Family Resemblance: An Anthology and Exploration of 8 Hybrid Literary Genres and translated four poetry collections from Czech, French, and, most recently, Hebrew. Her work was long listed for the 2017 PEN Award for Poetry Translation and was awarded a 2018 NEA Translation Fellowship. Sulak is associate professor of Literature at Bar-Ilan University; she hosts the radio podcast "Israel in Translation" and edits The Ilanot Review.
Why Does the Torah Make Cows Kosher and Pigs Traif ? — Ta'amei HaMitzvot (Rationales for Mitzvot), Richard Friedman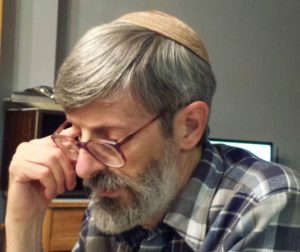 The Torah, in Leviticus 11, presents rules for which species of animals are kosher. In most cases, it's clear which animals are kosher and which are non-kosher. What's not clear is why these animals are kosher and those are not. Jewish thinkers and commentators throughout the ages have addressed the issue of ta'amei hamitzvot (rationales for the mitzvot), in general and with respect to particular commandments. We will study rationales that have been proposed for the Torah's prohibition on eating animals of certain species. We'll look at a historical range of explanations, including Rambam, Abarbanel, S.R. Hirsch, Mordecai Kaplan, S'fat Emet, and contemporary anthropologists. We'll study in havruta pairs and then in group discussion.
Religious Life and Spirituality

Intermediate Text Study

Suited for Teens
Richard Friedman is a lawyer with the federal government. He has taught numerous times at the NHC Summer Institute, classes including halachic sources on war, the S'fat Emet, and translating the siddur. He teaches weekly classes at his shul on Torah commentary and on Talmud.
Interfaith Understanding: How Do We, as Jews, Think about Other Religions?, Larry Moss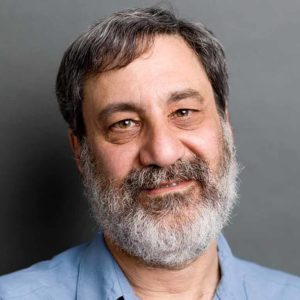 Pluralism is the view that differing theories might all have valid claims; religious pluralism validates the varied claims of different religions. For liberal Jews, it's a truism that this type of interreligious pluralism is a good thing. But why is this so?  Is it basically shalom bayit (keeping the peace) or is there something deeper going on? And just how far does pluralism extend? When one digs a little, there are diverging ways to think about what pluralism even means in the first place. How does this change our perspective? This class will examine issues pertaining to difference based on readings from a wide variety of sources: the Tower of Babel passage in Genesis, its (mis)understanding by Jacques Derrida; Jonathan Sacks; and contemporary Islamic thinker A. Rasheid Omar. These sources will be presented in confrontation, so that each of us can craft our own views in response. For Jews, the issue of religious pluralism was tied to our acceptance by the Western world.  Facing fundamentalism, it may mean something different. What does it mean to us today?
Contemporary Issues 

Religious Life and Spirituality 

Text Study for Everyone
Larry Moss has attended the NHC a handful of times over many years, starting around 1990.  He's pleased to be teaching here for the first time. In another life, he is an academic who specializes in logic and related fields.  He's a regular Torah reader in a local minyan, and fiddles in bands in Bloomington, Indiana.
Pirkei Avot — Ethics of the Fathers: The Big Picture, Joseph G. Rosenstein
Studying Pirkei Avot one mishnah at a time may keep us from considering broader questions that are raised in or about the text as a whole.  In this course, we will examine such broader questions, like the "oral Torah," "olam haba — the world to come," reward and punishment, the importance of Torah study, the intended audiences of Pirkei Avot, the collection of ethical principles contained in Pirkei Avot, the lack of historical references, and controversial and contradictory statements. Each day will involve study of selected texts from (or about) Pirkei Avot in translation (Hebrew text available) and discussion of what we learn from those texts. 
Religious Life and Spirituality

Text Study for Everyone

Suited for Teens
Joe Rosenstein is a founder and former chair of both the NHC and the summer institute.  He has taught at many NHC institutes and retreats. He is the author of Siddur Eit Ratzon and Machzor Eit Ratzon (newsiddur.org) and Memorable Verses of the Torah (memorableverses.com).  He was a professor of mathematics at Rutgers University until he retired three years ago.  He and his wife Judy have been married for 51 years and have five daughters, five sons-in-law, twelve grandchildren, and three small dogs.
How to Design a Synagogue Space in 10 Culturally Appropriative Steps, Raysh Weiss
Come take a whirlwind tour across the globe and through time as we explore the art and architecture of the synagogue as it has evolved throughout the Jewish diaspora and its implications for how we understand community. We will consider how Jewish communities' interaction with their surroundings result in dynamic encounter and exchange, which characterizes Jewish cultural heritage in the myriad communities Jews have lived around the world during the past two millennia. Jewish art is about Jewish life in far flung lands and what they retained as they adapted to new cultural environments. Given the multiplicity and diversity of the synagogues, we will limit our focus to ten synagogues, each of which exemplify a particular time and place. We will consider their "journey" from when they were built  to the present – thinking about memory and identity – if they still exist, what are these synagogues today – how are they used – are they still active synagogues, places of memory, museums – repurposed for another place of worship or for some other function? Together, we'll consider the evolution of the aesthetics of Jewish worship spaces around the world and how these aesthetic decisions inform each space's function, communal identity, and purpose.  
Arts, Music, Performance

Contemporary Issues

History and Culture
Raysh is a member of three shuls (and the rabbi of one of them).  Previously, Raysh served communities in Nova Scotia, Long Island, Brooklyn, and Tel Aviv and also founded a havurah in Minneapolis. Raysh also holds a PhD in Cultural Studies and Comparative Literature and is passionate about promoting widespread Jewish literacy. This is Raysh's fifth Institute.
Breathing New Life: Chassidish & Original Nigunim for Transformations, Rena Branson 

*FULL*
Through this course, sacred song and silence will guide us beyond our everyday mental chatter and return us to ourselves and to each other in the present moment. We'll open the sessions with a contemporary melody and then dive into esoteric nigunim (melodies) of the Chabad Chassidish tradition. ChaBaD, or חב"ד, is an acronym for Chochma—the seedling of bright wisdom, Binah—taking root in deeper understanding, and Da'at—intimate knowledge that bears fruit in practice. Chabad nigunim are often acrobatic exercises that help refine our souls to do their holy, courageous tasks on earth. We'll cultivate focus, patience, perseverance, and compassion as we stretch to let these complex nigunim blossom through us, and feel ourselves blossoming through them. On Tisha B'Av, we'll also hold space for silent meditation and an optional invitation to share reflections. All voices are welcome.
Arts, Music, Performance

Meditation and Movement

Religious Life and Spirituality

Suited for Teens
Rena Branson is an educator, musician, and prayer leader. Through a labyrinth of circumstances, she met her Chassidish father for the first time in 2014 and discovered her love for singing traditional nigunim (sacred melodies) together. She now works to make Chassidish nigunim more widely accessible and share their healing power in progressive Jewish communities, teaching workshops and private lessons. She founded A Queer Nigun Project, which hosts monthly nigun singing at Jewish services in jails as well as events for LGBTQIA+ folks in New York and Philadelphia. She spent the past year studying Jewish music full-time with Joey Weisenberg in the Rising Song Residency and has facilitated programs at Let My People Sing! and Hadar's Rising Song Intensive. Her recordings of traditional nigunim and original tunes for liturgy are available online.
Electricity Like a Mirror up to Nature: Using all this Technology as a Stage, Yavni Bar-Yam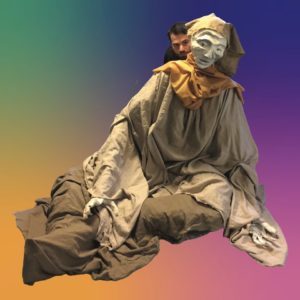 Even before the pandemic, text messages, videocalling and the like have increasingly dominated our communication. All the more so now. What new forms of artistic storytelling can we create within these online media, expressing this altered life? We will experiment collaboratively, drawing on our Tradition for inspiration and for texts to adapt, and creating/"staging" new works in these new genres of Zoom, chat, and other such technologies.
Live theater is a storytelling medium built on in-person interactions, and suited to portraying them. In a time that so many interactions are not in-person, what "undead theater" can we produce? The genre of pulp fiction arose out of the new technology of cheap paper and printing. What new genres can we invent with the new technologies in our hands?
Yavni is a puppeteer, which means he doesn't have to choose between being a performing, visual, and literary artist. He has performed traditional Italian masked comedy in Bangkok, Czech revolutionary theater in New York, and street clowning in Israel. He has devised rod puppetry accompaniments to contemporary classical song cycles, built large-scale parade puppets for Ashkenaz Festival Parade 2018 and created video found-object-puppetry-of-the-absurd as part of Hermit Appendage. He was the 2016 Timbrel Artist in Residence at NHC Summer Institute, where he was fortunate to work with the best company of wilderness shadow puppeteers.
Nurturing our Core Divinity, Martha Louise Hare 
*FULL*
"Where is G‑d? Wherever G-d is allowed in." (Kotzker Rebbe).  Access to our divine nature and its reflection in the other allows us to be more effective during times of upheaval. In contemporary society, many people are cut off from exploring this possibility because of generations of "baggage" surrounding notions of God or godliness. The course is open to seekers of all kinds – those who are mainly comfortable in a Jewish idiom, those who are profoundly skeptical of divinity, and those whose explorations have included ventures outside of Judaism to name a few. The course seeks to assist the learner in developing a Jewish idiom for this very personal experience. Safety of expression will be paramount. Each session will begin and end with breathwork and meditation, with time for gentle movement. Core texts on encountering the divine will evoke discussion. Learners will be encouraged to engage with each thinker on an experiential level. Journaling (prose, poetry, art) will deepen experience. It is possible that learners will have an "aha" moment, but far more important is increasing confidence in continuing the search for divinity in ourselves and in others                       
Meditation and Movement

Religious Life and Spirituality

Text Study for Everyone
Martha has a great love of both yoga and Yiddishkeit.  Formally trained in anthropology and in nursing, she has spent the year after retirement focused on building her skills as a yoga instructor and in her studies of Jewish Spirituality with a concentration on Spiritual Direction as a modality for addressing spiritual and historical trauma. Also, as an activist Martha has found that grounding in a deeply felt sense of divinity is crucial for coping with the challenges of our time.  Here, she seeks to further co-create with learners a Jewish approach to the experience of Divinity.
Probing and Parsing the Language of the Shacharit (Morning) Service, Ronnie Levin
The siddur (prayerbook) is an anthology and not all of its contributing writers have agreed with each other. The language of the b'rachot (blessings) associated with the Sh'ma are the key to the structure, themes and motifs of the morning service – as they have evolved inconsistently over millennia. We will also compare the structure and translations of different siddurim. Translations are interpretations! This is a deep dive into the text. The better you know the material, the more depth you will see.
Text Study for Everyone

Intermediate Text Study

Advanced Text Study
Ronnie Levin holds a graduate degree in Bible and tefilah and has been a popular Havurah teacher for many years. In "real life," Ronnie recently retired after 37+ years as a scientist at the Environmental Protection Agency and now manages the Water and Health Program at the Harvard School of Public Health.
The Grammar of Torah Reading, Adam Simon Levine
The te'amim / trop / cantillation marks that are used for chanting Torah, Haftarah, and Megillot are more than just musical notes; they are an intricate system of punctuation that is closely tied to the syntax and meaning of the text. In this course, we will dive deep into the workings of this system. We'll see how the te'amim can offer insights into the interpretation of a text and how they can (sometimes) be deduced from the text's sentence structure. We'll also learn about the history of cantillation and the surrounding laws and customs. (Note: This is not an introductory Torah reading course; it will assume basic Hebrew comprehension and familiarity with the te'amim.)                     
Adam Levine is an assistant professor of mathematics at Duke University, where he studies topology, the classification of the shapes of knots, surfaces, and their higher-dimensional analogues. He has been attending Institute since 2009 and was on the NHC board for six years. He is an avid fan of bad puns, complicated crossword puzzles, and the New York Yankees.
 A Close Reading of B'tzelem Elohim (In the Image of God): Biblical Text and Disability Studies, Ora Horn Prouser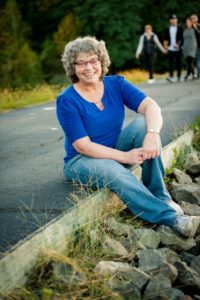 "Hafoch bah v'hfoch bah d'chulei bah – Turn it over and over for everything is in it" (Pirkei Avot/Ethics of Our Fathers 5:26). Each time we view the Bible through a new lens, we add to our understanding of the text, we learn more about ourselves, and we widen the impact of the Bible on the Jewish community. Through close readings, in this course, we will approach the biblical text through the lens of disability studies. We will see how viewing certain biblical personalities through this lens provides access to new dimensions of their characters and the texts in which we encounter them. We will then consider the character of God in the Bible and how God too can be more deeply appreciated through the perspective of disability studies. This analysis challenges us to broaden our understanding of the concept of b'tzelem Elohim (in the image of God) and will help us in the critical work of more fully appreciating the image of God in those with physical, emotional, and intellectual disabilities.           
Contemporary Issues

Religious Life and Spirituality

Text Study for Everyone
Ora Horn Prouser, Ph.D., is the CEO and Academic Dean at The Academy for Jewish Religion, a pluralistic rabbinical, cantorial and graduate school in Yonkers, New York. She has also worked with the Melton Center for Jewish Education, the Davidson School of Education at JTS, and various educational institutions to develop curricula and approaches to Bible pedagogy for all levels and learning styles.  Her book, Esau's Blessing: How the Bible Embraces Those with Special Needs was recognized as a 2012 National Jewish Book Council finalist and as a Gold winner in the 2016 Special Needs Book Awards.
Patriarchy-Smashing in the Book of Judges, Jonah Rank
The Book of Judges portrays a nearly anarchic Israelite civilization grappling with shifting cultural norms. In super-short stories and a few several-chapter-long adventures, Judges anthologizes narratives that are connected, not by continuity of characters, but by sharing similar themes. Bubbling beneath the surface of this biblical book is an anxiety over what roles men–especially fathers–should play in society. Although certain chapters in Judges offer obvious critiques of the way gender and families were structured in ancient Israelite life and memory, certain stories are only subtle in expressing their disapproval of new and old societal norms. In this course, using contemporary as well as classical (and some mystical) rabbinic commentary, we'll examine a few selections from Judges that most clearly illustrate how an evolving early civilization began to form and to reform its sense of civility.
Contemporary Issues

Religious Life and Spirituality

Intermediate Text Study
Jonah serves as the Director of the Shul School at Kehilat HaNahar in New Hope, PA. Jonah's MA in Jewish Thought comes from the Jewish Theological Seminary, where Jonah was ordained in 2015. An award-winning Jewish songwriter, Jonah studied Music at Columbia and Jewish Music at JTS as an undergrad. For four summers, Jonah created pluralistic Jewish artistic spaces in Waltham, MA, at BIMA. Jonah writes and edits for Jewish educational, academic, and liturgical projects—including Siddur Kanfey HaShekhinah, a forthcoming (mostly) traditional Ashkenazic Hebrew prayer-book where the references to God are (almost) entirely feminine.
Chemical Hazards: A Jewish Perspective on a Challenge for Labor and Environmental Justice, Darius D. Sivin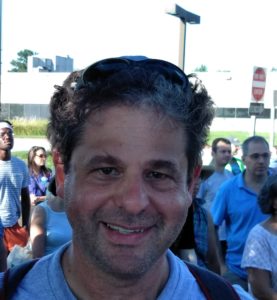 In the United States, it has been estimated that there are approximately 49,000 annual deaths due to work-related illnesses; worldwide, there are approximately 1,170,000. Outside the workplace, chemical hazards are a major example of environmental injustice by race and class, with people of color almost twice as likely as whites to live near dangerous chemical facilities. The poverty rate among those living closest to hazardous facilities is 50% higher than for the U.S. as a whole. Looking at Rabbinic texts on occupational hazards, the history of Jewish involvement in American struggles for occupational health, and relationships between worker and environmental justice concerns, this course will provide a Jewish perspective on both and will facilitate involvement in advocacy around these issues.
Contemporary Issues

Text Study for Everyone
Darius Sivin is an occupational health and safety professional for the United Auto Workers and a member of various havurah minyanim since  1986. He has taught one class and many workshops at Institute and he has taught Jewish topics to adults and children at Fabrangen Cheder, Fabrangen Chavurah, Shirat Hanefesh and Washington DC's Jewish Study Center.