National Havurah Committee
NEW ENGLAND Winter Retreat
Camp Ramah, Palmer, MA
December 13-15 2019
Studying Torah and vibrant, musical Kabbalat Shabbat services begin our weekend together.  Friday continues with dinner, singing, and study sessions.  Participate in spirited prayer, or contemplative meditation, take walks in the woods or at the lake, study accessible texts, learn and sing new songs, stretch your body and your mind with engaging study and discussion all weekend long.  The retreat ends after lunch on Sunday.
Camp Ramah in New England is located just outside of Palmer, MA, a few miles north of exit 8 off the Mass. Turnpike.  The camp is about 75 minutes from Boston, MA or Hartford, CT; 90 minutes from Albany, NY, or Providence RI; and about 3 hours from New York City.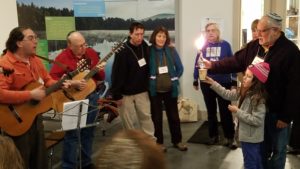 Camp Ramah has an indoor recreation facility, a lake, wooded walking paths, informal lounges, seminar rooms, a state-of-the-art Beit Midrash complex, a Judaic library, and a prayer space. Accommodations are simple, comfortable, and fully winterized.  Single rooms and "motel-style" rooms are available. Meals are kosher, with vegetarian options. Towels, linens, and blankets are provided.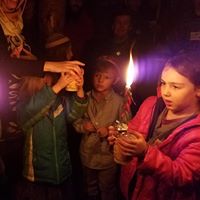 Saturday Night Entertainment features a talent show, group singing led by Josh Schreiber Shalem and Lauren Rose, and joined by our musical attendees in an open-ended jam session. Bring copies of Rise Up Singing!
Participants from the 413 Area Code can attend for 50% off thanks to a Jewish Family Camp grant available from the Harold Grinspoon Foundation. Visit https://hgf.org/grants-awards/jewish-family-camps or contact the retreat co-chairs for information before registering.
To register, complete this form and send it, with your check, payable to NHC New England Retreat, c/o Steve Lewis, 162 Hampshire St, #1L, Cambridge, MA  02139. We cannot accept on-site registrations. Please return your form by November 21 to avoid the late fee.
Watch for registration details!

Teachers and Presenters
Aliza Arzt
Joe Rosenstein
Sue Gulack
Lauren Rose
Josh Schreiber-Shalem
Solomon Mowshowitz
Trisha Arlin
David Seidenberg
Sue Fendrick
Laura Bellows
Abby Bellows
Talia Laster
Esther Africk
more to come!