University of Hartford Housing
(Important Additional Information for your stay can be found below the dormitory descriptions)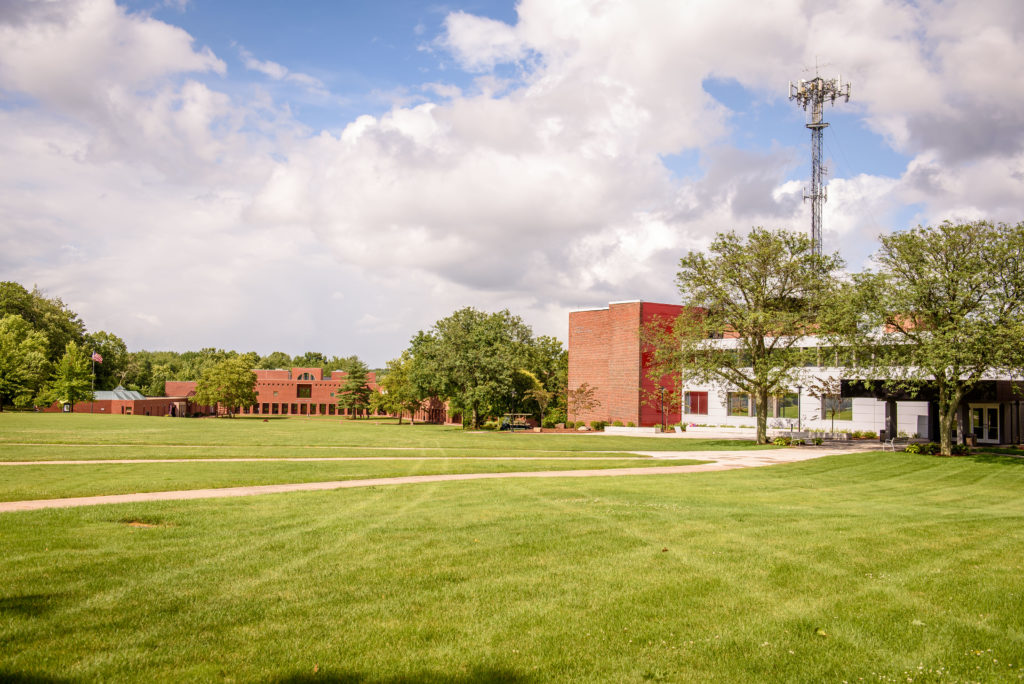 The 2022 NHC Summer Institute will be at the University of Hartford. Here is some background on our accommodations while we are there.
Housing Choices
Housing is dorm-style double rooms (two single extra long beds per room). Most floors have: 1 common area, 8-25 bedrooms, and shared restrooms (including multiple toilet and shower stalls). Laundry machines are available in each building. Larger community wide common spaces are also easily accessible from all housing options. All are air conditioned.
The weather in Hartford in July is usually warm: 84° F average during the day/ 64° F average in the evening.
NHC will have three types of housing available during the Summer Institute:
Centrally-located, ideal for children and families
Evening Childcare will take place on the 1st floor of Hawk Hall
Elevator
Electronic key card access, with option to leave individual rooms unlocked throughout the week

On Shabbat, someone will be stationed to open the outer door

Women's, Men's, and All-Gender options will be available for communal bathrooms
Air conditioned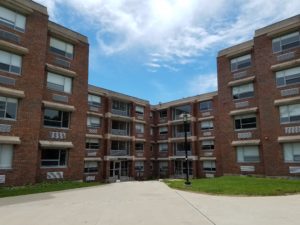 Centrally-located
No elevator, first floor rooms available.
Hard-key access for individual rooms, electronic key card for the outer door (will be propped open on Shabbat)
Shared bathrooms
Air conditioned
Slightly farther from central community space, accessible by golf cart paths
Elevator (suites are on the 4th floor)
Hard-key access for individual rooms, electronic key card for the outer door (will be propped open on Shabbat)
Park River has fully furnished apartments. The apartments house four people total. The common areas include meeting rooms, lounges, recreation, and laundry facilities.
Has a kitchen
These apartments are air conditioned.
In each Park River bedroom, there is one XL twin bed and mattress, one desk, and one desk chair.
The living room space is furnished with two love seat couches, one coffee table, a kitchen table, and four kitchen chairs.
Additional Information- PLEASE READ:
Housing is accessible by one of the following: ramp or stairs, stairs or elevator, a few stairs, or a flight of stairs.  Many (but not all) restrooms are ADA compliant, so please indicate your specific accessibility needs in your registration.
Furniture: Each room is equipped with a dresser, desk, chair, and bed for each occupant.  No outside furniture allowed in the dorms.  There will be a $50 charge for any outside/rented items left in the dormitory after check-out.
Linen Packages: Linen packages can be ordered at the time of registration.  This package is $40 and includes: a fitted sheet, a top sheet, light summer blanket, 1 pillow, and a pillowcase. Single rooms are available at an added cost if chosen in your registration.
Personal Refrigerator: Small, personal refrigerators are available to rent for $140 in advance for your room (Complex or Hawk Hall).
Towels: 2 bath sheets per person will be placed on each bed reserved.  These are free of charge.
Laundry: Laundry rooms are in each dormitory and are free of charge.
Room Choice: 
You will have an opportunity to request who you would like to room with/near and to tell us about factors we should keep in mind if matching you with others. If you have a child or children who will not be using a bed (because of sharing a bed or a pack and play type setup) we ask you indicate this in their registration.  There are cots available, as well for $35.  We ask for 2 room choices on registration and we will do our best to accommodate them.
Room Switch Requests: Room switch requests will be taken after general check-in is complete; from 5:00 pm- 6:00 pm.  If you are requesting a new room due to conditions other than facility related, you will be charged $.00. You are responsible for transferring your linens and your personal property to the new room.
Key Cards: Many doors are opened with electronic swipe cards. Provisions will be made for people for whom the use of these cards will violate their Shabbat observance. Please make sure the appropriate information is given in your registration.  There is a fee of $150 for each lost hard key.  There is a $30 fee for lost electronic swipe cards.  A deposit of $30 will be collected at registration for swipe cards.  You may choose to donate the deposit at check-out.
---
All housing options are very close to each other, the dining hall and spaces where late night programming will happen. Golf carts (available for rent) are not allowed the footpath between classes/workshops/Kidstitute/evening programs and dorms but can still access all programming via an alternate path. All housing is accessible via nearby parking lots. There are no major hills near the housing.
Housing will be assigned taking all requests into account and making great effort to accommodate all needs brought to our attention in advance. Please help us by providing information in your registration (including about accessibility needs, roommate preferences and Shabbat observances).
Food
Each day features three delicious, kosher, vegetarian meals and plenty of evening snacks. There are always vegan/parve options and an abundance of healthy choices. The kitchen and dining hall are under the strict supervision of a mashgiach (supervisor), who also participates in the Institute.
If you have special food needs, allergies, or sensitivities, please help us meet your needs by letting us know on the registration form and providing a detailed explanation by July 1st, 2022.
Local Alternative Accommodations (Hotels)
We realize the accommodations at the University of Hartford are physically challenging for some members of our community. In light of that,
we are offering a discounted commuter rate of $850
to support those who may have a better experience staying off campus.  This includes dinner on Monday night and 2 meals a day Tuesday through Saturday, as well as all of our programming.
Here are 3 hotels in the area that provide breakfast (some may require purchase)-