Registration & Check-In Details for the
Summer Retreat
Can't WAIT to be together again?  See you on Sunday, August 14!
Check-In with Alyse when you arrive at the Great Hall next to the Dining Hall.
Sunday, Aug. 14 Early Arrival Check-In: 4:00-5:30 pm ET (no sooner than 3:00 pm)
Sunday, Aug. 14 Late Arrival Check-In: 7:00-8:00 pm ET (no dinner available)
Thursday, Aug. 18 Departure-Check-Out: 10:00 am ET*
NHC must be off the property no later than 1:00 pm ET
---
Isabella Freedman Provides:
Ritual wear such as kippot, tefillin, and tallitot
Siddurim, bentchers, and holiday prayer books
Yoga mats, blankets, and blocks
Heat and A/C in all guest rooms
Linens, towels, and soap in all guest rooms
Alarm clocks in all guest rooms
Extra blankets and towels upon request
Toiletries like deodorant and toothpaste for sale in the bookstore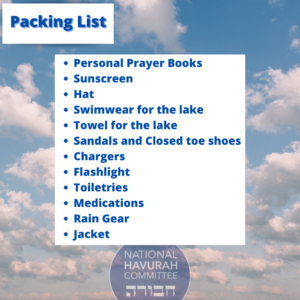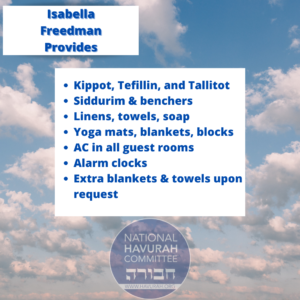 You may want to bring:
Over-the-counter and/or prescription medications
Toiletries
Flashlight
Chargers for electronic devices
Sunblock, sunglasses, and a hat
Rain gear
Your own ritual wear and/or prayer book
Your own yoga gear
Comfortable, loose-fitting clothes for yoga
Closed toe shoes
Hiking boots to enjoy our many trails
Layers and a jacket
Swimwear and a beach towel to enjoy our pool or lake in the summer
*Attendees not out of their room by 10:00 am ET will be charged a fee.